Practical Considerations: How To Translate Your Strategy Into An Executable Implementation Plan
One of the biggest struggles IT teams encounter when embracing Evergreen is creating the actual process for their unique environment. One size definitely does not fit all here, even if many of the processes are relatively similar in nature.
Your exact process and workflows heavily depend on the state your IT estate is in, the type of applications you have in-house, and many other factors. But there is a tremendous value to looking at already established processes, adjusting and adapting them to your situation, and customizing and improving where needed.
There are two very useful concepts that were developed for Windows 10 Servicing Management. It is not only helpful to understand the general concepts but you could reuse them by making certain adjustments to implement all Evergreen IT use cases.
1) Windows Deployment Rings: Microsoft's Blueprint For Optimal Phased Deployment
The first concept is called Windows Deployment Rings which refers to Microsoft's recommended approach for managing Windows 10 Servicing updates. While it is inherently designed for Windows 10 updates, the high-level methodology can be used in any Evergreen IT update scenario.
In 2015, Microsoft migrated 90,000 employees within a matter of weeks rather than years using this concept. Since then, it has undergone several cycles of changes and improvement. Microsoft defines deployment rings as follows:
Deployment rings in Windows 10 are similar to the deployment groups most organizations constructed for previous major revision upgrades. They are simply a method by which to separate machines into a deployment timeline. With Windows 10, you construct deployment rings a bit differently in each servicing tool, but the concepts remain the same.

Each deployment ring should reduce the risk of issues derived from the deployment of the feature updates by gradually deploying the update to entire departments. As previously mentioned, consider including a portion of each department's employees in several deployment rings".
Essentially, the principle is that you start rolling out the Windows Insider for Business version of the new Windows 10 update to very few "Explorers" before the official update is available. This allows you to test-drive new features. Once the new Windows version is released to manufacturing (RTM), you start rolling it out to Test Pilot groups. The first group is much smaller and only covers limited hardware and application choices while the second group will test most hardware models and all important business applications 30 days later.
These test pilots pave the way for broad deployments organized in waves. Depending on your organization, you might only need two waves, but if you are larger you might want to use more. Finally, any difficult stragglers as well as VIPs are migrated to close out the project.
In a general context, deployment rings can be used for all Evergreen IT use cases, e.g., for managing a hardware refresh or transition to Virtual platforms. You simply have to adjust the parameters and enrollment criteria.
How To Determine Who Goes On Which Ring
The most frequently asked question we get about deployment rings is whether it matters how many people are in each ring and how should they be selected. While you could seek out, let's say, 5% of your IT team as volunteers for the first test pilot and a certain number of friendly users from business units, it is much more efficient to mathematically determine who and how many people you need to add for each phase based on critical readiness and application coverage criteria.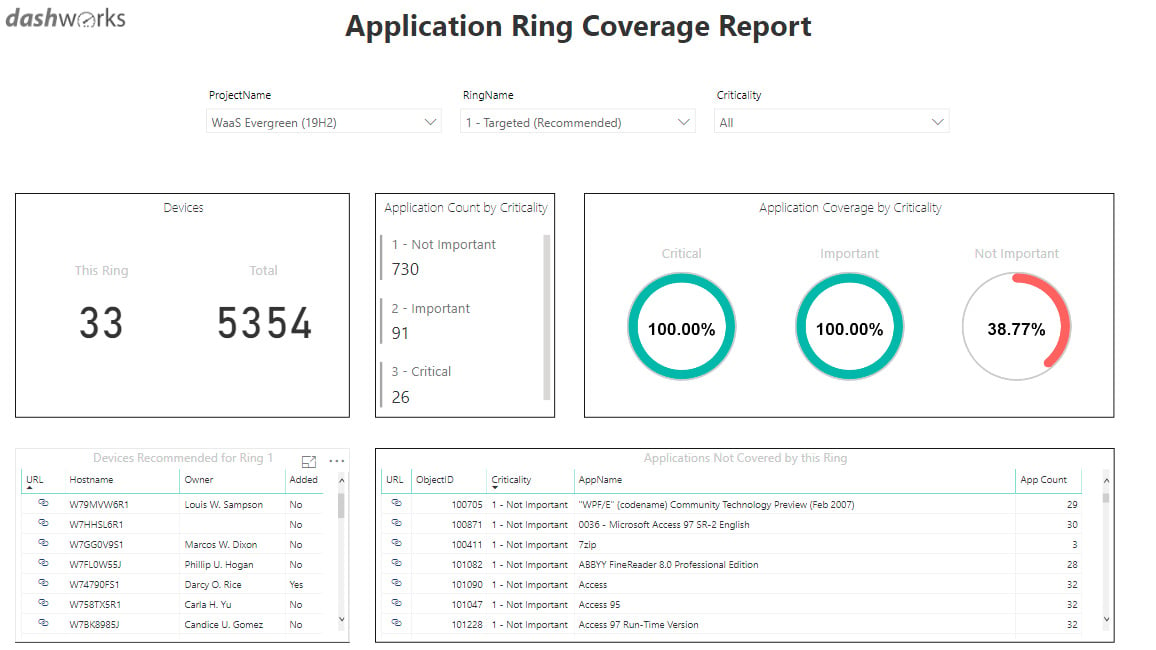 By strategically selecting your test ring participants, you will achieve the fastest coverage area. If this is something you are struggling with, we highly recommend that you read our article on "How We Mathematically Calculate Deployment Rings For Maximum Velocity" but we will cover the basics below.
2) Planning Considerations For The Optimal Evergreen IT Management Process To Drive Maximum Velocity
When following the process laid out by the Windows Deployment Ring concept above, there are many practical concerns you will have to consider when planning for an optimal Evergreen IT Management process. Essentially, you will want to look at all of your in-scope elements and then determine which factors are your bottlenecks. For example, for a Windows 10 Servicing project you will need to determine which applications need to be tested or remediated first to be able to cover the largest user base possible to move your migration along as fast as possible.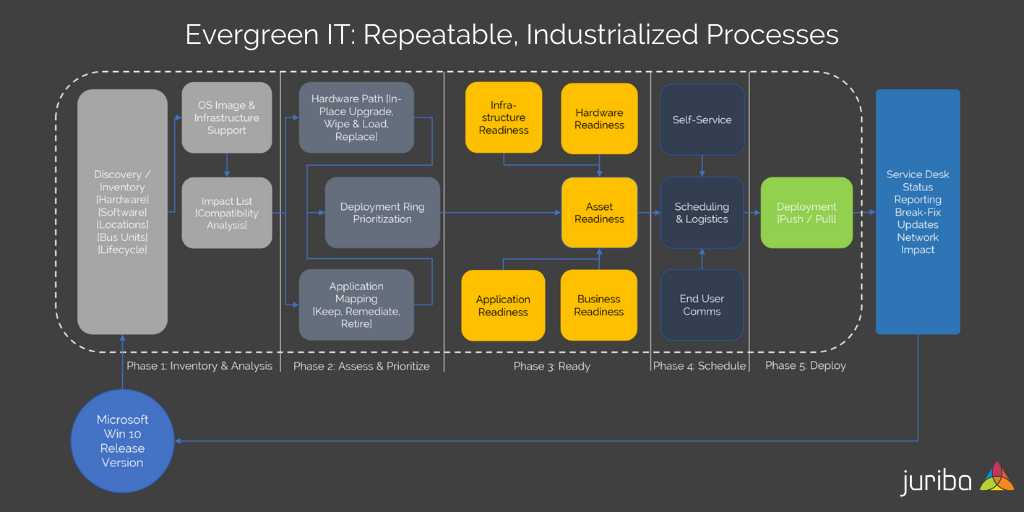 The graphic lays out the five basic steps on how to do that using the example of a Windows 10 Servicing project, but this Evergreen IT process framework can be used for all use cases:
1) Inventory & Analysis
In this first step, you are running through your discovery and inventory process. Depending on which use case you are working on, the elements you are looking at will differ. For example, for a hardware refresh, you are interested in knowing your device's warranty or lease dates, whereas for an application life cycle project you will need to know how many different applications and application versions are currently installed in your environment, what the usage of those apps is, and so on. Essentially, this step allows you to gain a clear understanding of what the exact scope of the project is.
2) Assess & Prioritize
Now that we know the scope of your Evergreen IT cycle, it is extremely useful to first assess and prioritize your next steps before diving right in. For example,
For a Windows 10 to 10 upgrade, you want to know if you have enough disk space on the hardware to receive the upgrade, whether all of the drivers on a particular machine are going to work, and whether your applications are compatible for the upgrade.

For a hardware refresh program, you would look at the warranty dates and lease dates of all devices to determine which devices are due to be refreshed and therefore in scope.

For a mobile OS upgrade cycle, you will look at which OS your devices are running to decide which are in scope for the upgrade, before determining which devices can take an upgrade and which ones can't.
After assessing the inventory to determine the scope of our Evergreen IT cycle, we would then proceed to prioritize our elements based on mathematical algorithms to achieve maximum velocity. For example, for a
Windows 10 Servicing project, you would find and assign specific devices to your Windows Deployment Rings to get the most application coverage which in turn allows you to migrate the most devices.

Hardware refresh cycle, you might need to go by hardware

availability in certain regions and bundle those together accordingly.

Application retirement or rollout, we are looking for which application dependencies can be remediated with the highest impact in terms of moving us forward,

and so on.
Whatever use case you are working on, the goal is to achieve the fastest velocity by eliminating the most impactful bottlenecks which then allows you to target the most assets as soon as possible.
3) Ready
Next, we work through the readiness tasks associated with each program. Again, specific tasks depend on the Evergreen IIT use case you are working on. For example, for:
Windows 10 Servicing, we need to consider application compatibility and readiness, hardware, platform, business unit readiness, location readiness, and such.
Hardware refresh, it might purely be asset readiness and vendor or engineer readiness as we might need a replacement depot or a location where employees can bring their devices.
Application rollout, like Microsoft 365 Apps for Enterprise client upgrade, we will need to ensure hardware readiness in terms of available disk space as well as plug-in application readiness.
Once all readiness tasks are completed, we can move on to the actual scheduling and deployment.
4) Schedule
Over the past few years, we have experienced a culture shift within enterprises towards end users managing their own deployment schedule. We call this self-service. Depending on the type of Evergreen project you are working on, you might be able to leverage self-service for your scheduling. Those organizations that empowered their employees to be an active participant in the migration process through self-service (e.g., by allowing users to volunteer for migration dates), have benefited from a better Employee Technology Experience as well as higher user satisfaction!
Another very important element to your scheduling and deployment process is end user communication. Depending on your use case and end user involvement, communication needs to be handled differently. For example, you might want to ask your users to bring their laptops into the hardware depot for a hardware refresh. Or you could ask your users to decide when they want the upgrade once they're ready if you are doing an in-place upgrade as part of your Windows 10 Servicing.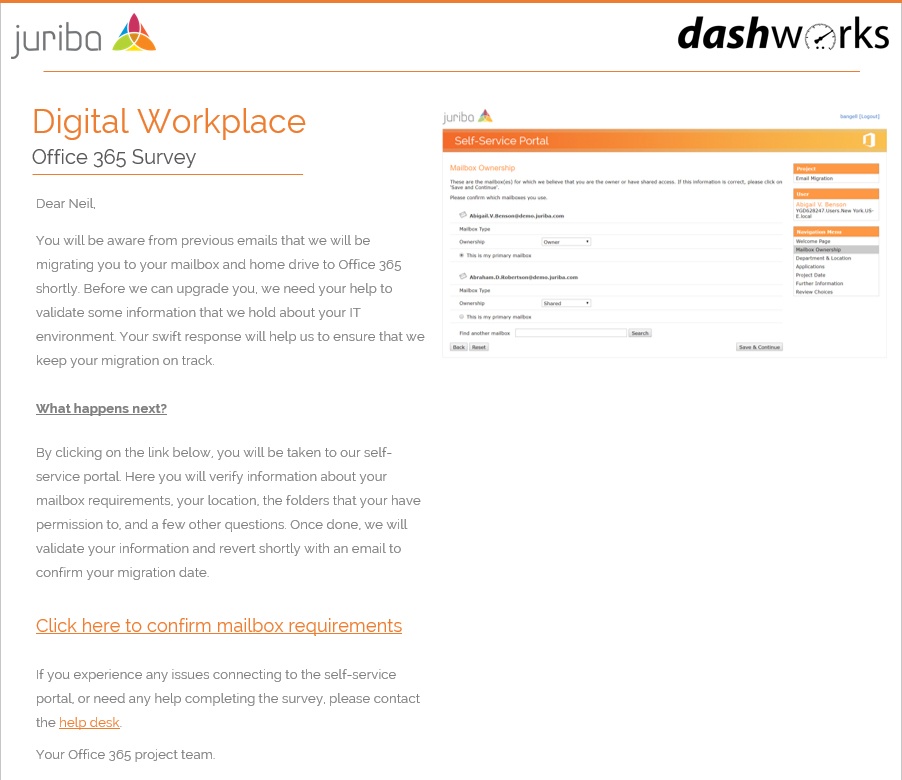 Generally, each life cycle upgrade project can easily translate to four to seven emails per user. If you have an estate of 25,000 users, this could mean anywhere between 100,000 to 175,000 emails that need to be sent and tracked. You will want to make sure your self-service and end user email communication work hand-in-hand, are part of your centralized command and control mechanism, and are as automated as possible — like you can with Juriba.
In some cases, we need to interface with third-party approval systems or service request systems. For a hardware refresh, for example, you can integrate with tools like ServiceNow to be able to action the data into the procurement systems and trigger approvals.
5) Deployment & Reporting
Naturally, the actual deployment will look very different for each Evergreen IT use case. It could be anything from a centrally-managed or self-service initiated in-place upgrade to a laptop replacement where employees have to physically come in. Depending on your use case, you will deploy using a push or a pull methodology to finish your cycle. Of course, during this process it is important that metrics are gathered on deployment progress and velocity to help to drive the future projects. After a successful deployment, you wrap up and start the cycle again.
The Evergreen IT Management Process Using Juriba
Now that we have looked at the process from a very high-level theoretical point of view, let's look at the same process from a delivery perspective. The process outlined below follows the best practices outlined above, but the added details around how to implement it with actual tooling often makes it more realistic and therefore achievable. While you can plan the process in a linear fashion using an adapted Waterfall project management methodology, the process lends itself perfectly to using Agile!
Generally, an Agile process has a planning, building, testing, and reviewing component before launching into the next iteration. The exact names and number of steps depend on which Agile concept you choose. The graphic below visualizes an enterprise Evergreen IT deployment process using Dashworks and the Agile methodology.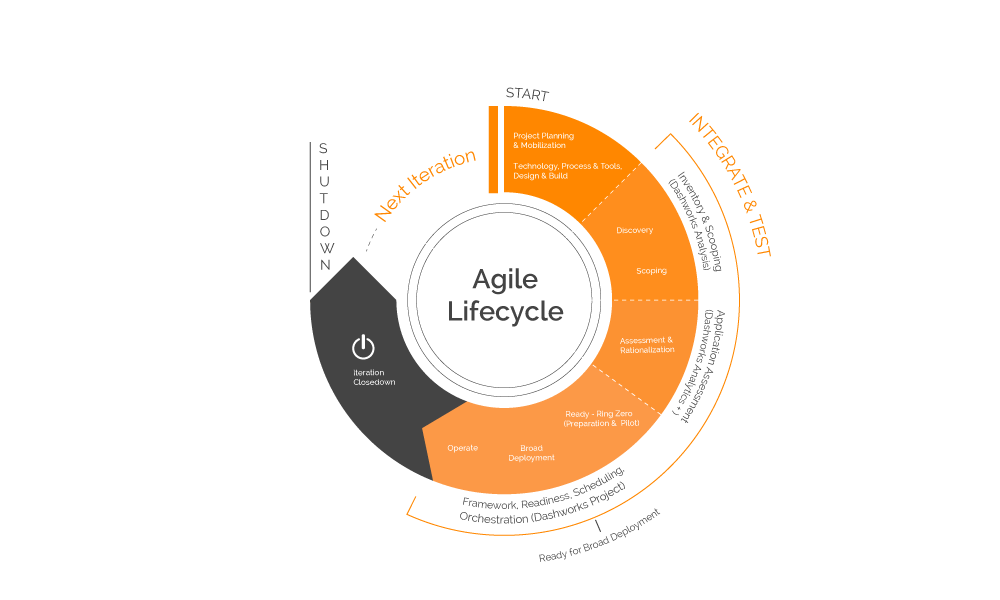 If you are struggling with managing Windows 10 Servicing or simply want to go through an end-to-end process in detail. check out our article on how to use Juriba to achieve maximum velocity upgrades.
Let's go through each phase in detail:
1) Gather All Relevant In-Scope Data
The first thing you will have to do is gather all of your relevant in-scope data. Depending on the use case, this can be user, device, application, life cycle, business unit, and/or location data from various sources. You aggregate this data from various sources, such as your Active Directory, SCCM, ServiceNow, HR feed, and others.
Using Juriba's certified connectors, you can collate and aggregate this data within minutes to a central data warehouse. This gives you the ability to drill down into detailed information, e.g., the deployment ring, RAG status, or application owner, as well as apply custom fields or add additional data points, such as locations and department.
Depending on which Evergreen IT upgrade cycle you are working on, you can define the scope by building a dynamic list of the relevant devices, apps, or users by setting some data filters aligned to your criteria for inclusion — e.g., all computers running version 1903 or below of Windows 10, all laptops with warranty expiring within the next 90 days, or all mobile devices running iOS 13.
2) Validate, Rationalize, and Model Your Data Set
For maximum velocity and efficiency, it is important to validate and rationalize the gathered information, check for any data quality issues, and exclude anything that is not relevant or applicable for this round. This eliminates any unnecessary noise factors that are irrelevant to the project but would slow down your progress.
Juriba makes this easy as it provides the ability to quickly filter, drill-down, and select appropriate data sets to work with.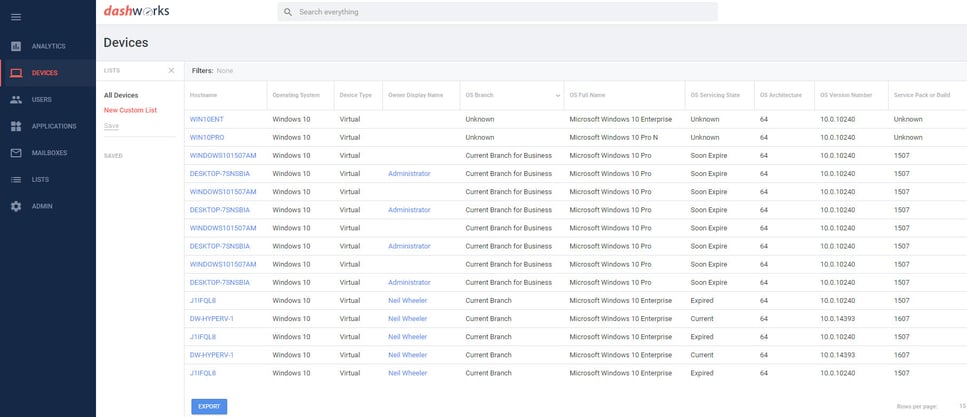 3) Create
Your Project
Evergreen IT Management is all about creating repeatable, scalable processes. With Juriba, creating and setting up a new project, as well as onboarding in scope assets, are extremely simple tasks. If you have already used Jurib for other related projects like, for example, your initial Windows 10 migration, you reuse most of the setup work. In addition, baked-in templates and industry best practices provide you with a proven and scalable process right out of the box.
To create your project, simply create your Evergreen IT workflow processes (e.g., your migration or upgrade paths), the tasks you want to track as well as any deployment teams and groups. Also, you can now create your user communication emails and set up your self-service portal. This is especially useful for Evergreen IT projects that lend themselves to a lot of user interaction, like a hardware refresh where your employees can choose their new devices from a predefined list.
Then customize the existing project template by changing the look and feel (to reflect your company branding) and the email content, and by making any additional customization you would like to make. Remember that your templates can be exported and cloned for future projects.
4) Onboard Your In-Scope Elements
Now you are ready to put your project in motion. Your assets inherit the default readiness status which can be adjusted to suit your project's needs. Check for restricting factors such as application compatibility, hardware availability or possible delivery dates, or any other criteria that could hold up or slow down your project, and try to group your users or assets accordingly into appropriate rings. Remember: you are looking for the lowest hanging fruit that will allow you to migrate as many users, upgrade as many devices, or whatever KPI your use case has as quickly as possible.
Also, you can significantly accelerate your projects by using Juriba's Self Service capabilities to rationalize your applications, let employees volunteer for an upgrade, and other actions that would enable you to move faster. Now your scheduling team can kick off. Finally, create an onboarding list within seconds using Juriba's new smart list functionality. This list can be automatically onboarded into their default deployment rings or upgrade groups.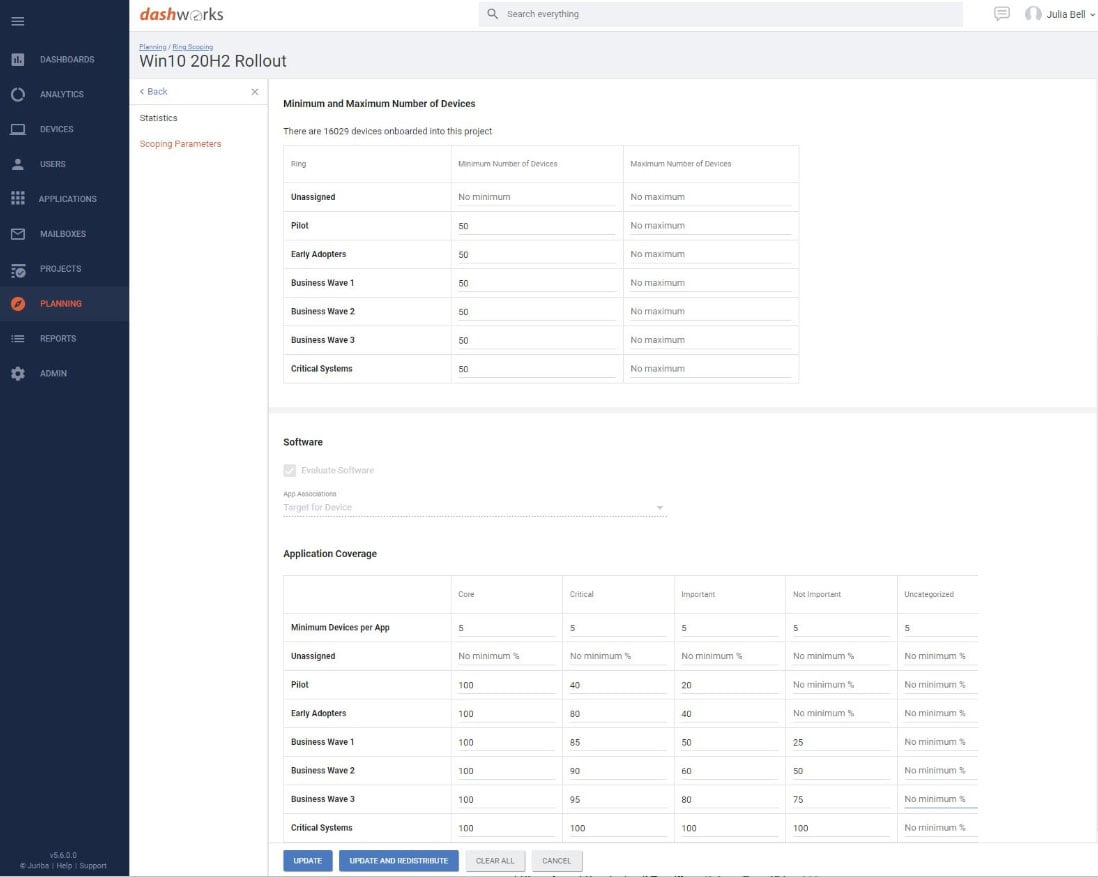 5) Readiness & Scheduling
As you are moving objects (e.g., your users, devices, apps) towards a green status, you are making "how to move forward" decisions. This could be an in-place upgrade or replacement decision for an Evergreen use case. Now you also do any further testing, such as application compatibility testing with your business users.
For those Evergreen projects that contain application dependencies, application readiness can be accelerated using Dashworks application manager automated smoke testing and packaging.
Through the self-service portal, you can significantly accelerate your Evergreen IT cycle by asking your users to further validate any important data points, confirm hardware choices, rationalize applications, and gather other crucial user input. Now you can trigger your deployment using SCCM or an equivalent desktop management tool. Using the Dashworks dashboards, you can display real-time progress and bottlenecks that might need remediating or adjustments.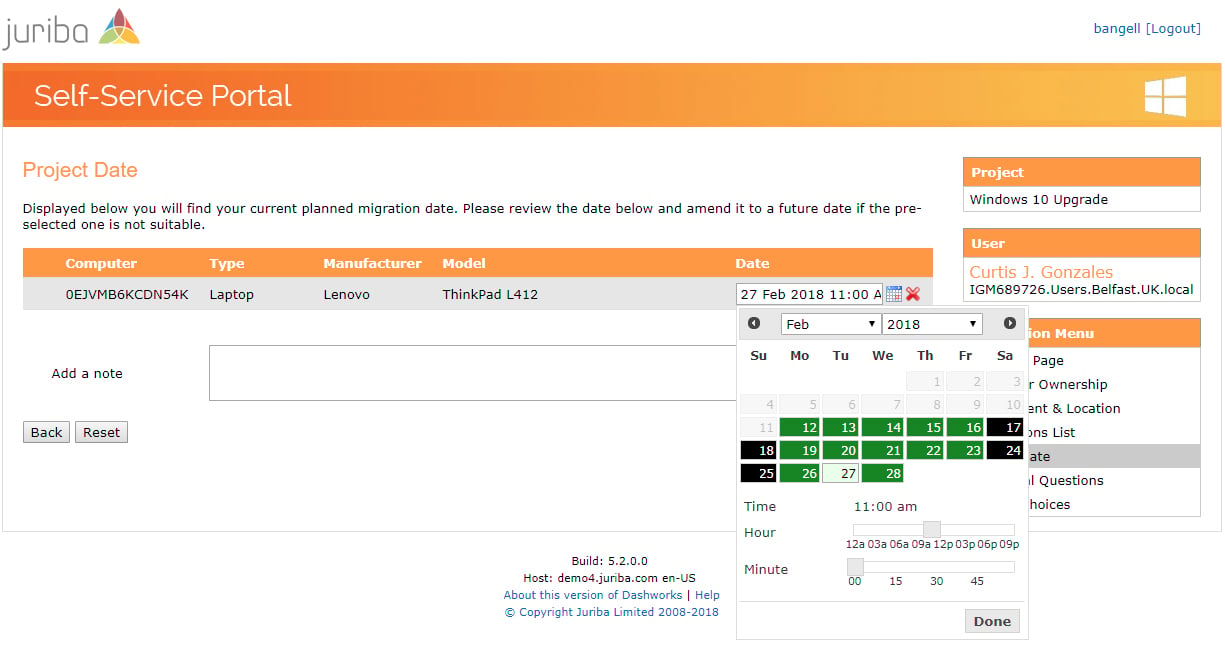 6) Deployment & Rollout
Your users' statuses are green and any issues are remediated — now it is time to deploy or roll out your project. Using Dashworks' scheduling and capacity manager, you can plan your rollout waves by location and aim to achieve a zero-touch project. Engineer drop sheets and final emails to end users are generated by Dashworks, and rollout events can be triggered, which get reported back into Dashworks.

After your deployment or rollout is finished, don't forget to wrap up this cycle with all the required post-deployment clean-up tasks and shutdown your project (including all the final reporting, user training and signoff, process review meetings to improve the next iteration) and get ready for the next round.