With Dashworks, You Are In Complete Control Of Your Windows 10 Migration!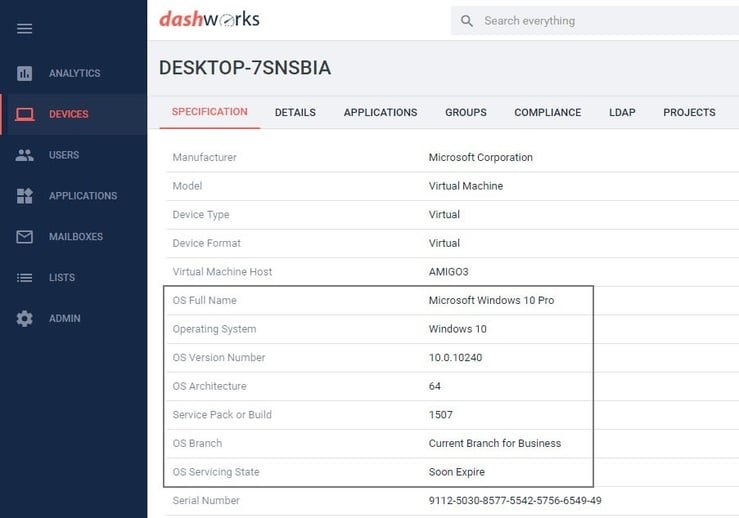 Gartner predicts that by the end of 2018, more than 80% of enterprises will have started their Windows 10 migration — however, adoption has been slower than expected because organizations are procrastinating upgrading to Windows-as-a-Service which comes with two feature updates per year.
Leverage Dashworks' central command and control center, its smart workflows, automated email and self-service capabilities, and so much more to streamline and accelerate your initial migration by up to 65% — and set yourself up for a scalable and repeatable upgrade process right from the start.
By empowering your end users with self-service and automated communication, they become an asset rather than a liability — helping rather than hindering you. All that heavy lifting associated with collecting and validating information is gone.
Automation triggers are taking care of your end-user communications and deployments. Now you can concentrate on what is important. Let the engine do its work while you point it in the right direction.
[Learn how to use Dashworks for your Windows-as-a-Service Management.]
How Dashworks Can Help:
By driving your Windows 10 migration using Dashworks, you can not only prioritize and score big wins early on, but also make your team more productive as they collaborate in real-time, based on actual data — rather than handing around outdated spreadsheets. See who is ready and what is holding you up, immediately. This way, you can identify low-hanging fruit that instantly propels you forward, as well as potential bottlenecks that could set you back.
Speaking of low-hanging fruits and big wins: Because Dashworks empowers users to become part of the project and offers them an outstanding user experience, your co-workers will be excited to support you and collaborate with you. In addition, Dashworks comes with robust data connectors, smart workflows, automatic email capabilities, configurable self-service portals and so much more — all designed to do the heavy lifting for you and eliminate labor-intensive manual tasks wherever possible.
But it doesn't end here. Once you have done all the groundwork for your initial Windows 10 migration, there is no reinventing the wheel for future projects. You can spin up your next update rollout initiative within minutes — whether this is your next Windows feature update, a hardware refresh, an Office 365 Pro Plus application rollout or any other IT Transformation project. This results in significantly fewer resources needed and is therefore less cost-intensive.