Application Compatibility Is The Major IT Transformation and Windows 10 Servicing Model Concern
With Windows 10 migration and the ongoing Windows servicing model at the top of the IT agenda, evaluating, assessing, and testing organizational applications at velocity has become a critical focus area!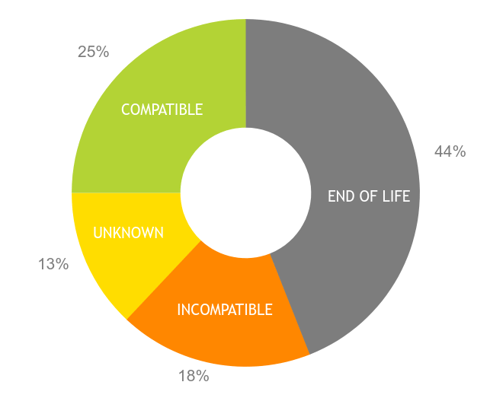 However, despite Microsoft's efforts to minimize these issues, application compatibility is the major obstacle enterprises face both on their road to a smooth Windows 10 migration and for efficient ongoing update management.
In fact, the average large enterprises touch more than 1,500 applications every time they upgrade. For Windows 10 migration there are some surprising results:
Only 25% of the enterprise applications are compatible out-of-the-box,
18% are incompatible,
44% are end-of-life,
leaving 13% as unknown (no information available).
— in other words, enterprises will have to tackle hundreds of applications before being able to migrate. (Source: Flexera BDNA - Win The Windows 10 Game)
For ongoing Servicing Model updates (Windows 10; 1703, 1709, 1803, 1809 etc,.) the situation is less understandable, especially given the lack of clarity on what is changing within the new OS release and how it might impact your application estate.
Yet, before you can determine your application compatibility, you will first have to collect and make sense of your application inventory — whether it is raw inventory of installed software that you have discovered, or it is known application packages (MSIs and APP-Vs) that you are managing. Only once you know the lay of the land, you can build your application lifecycle strategy; and Dashworks Analysis+ Application Compatibility (for Windows 7 -> 10) and other feeds (Windows Analytics, Flexera AdminStudio) for ongoing Servicing Model management will enable you to do just that!
Features:
Manage applications across multiple upgrade projects. Some of your applications need testing every time Microsoft release an operating system upgrade. Manage your application readiness per upgrade project to identify which applications will work with specific OS versions, and those to be remediated.
Application current state to target state management (per project). Dashworks can rationalize applications by taking multiple versions of an old app and forward pathing to a standardized version of a new app or by taking an application that isn't compatible and mapping it to a new application that is compatible — either way, the platform will

map the current state to the target state and flow down results to enbale end-to-end management.

Application categorization based on compatibility and upgrade path*. Dashworks enables you to categorize your application inventory based on what you are keeping, retiring, and forward pathing. However, instead of going through millions of data rows manually, this happens with the help of automation and a massive catalog that holds

application compatibility

insights and possible upgrade paths for almost every third-party app out there (*requires Dashworks Analysis+ module).
Rationalization around functionality of similar applications.

Dashworks handles the rationalization of many applications to one. For example, standardizing multiple terminal emulators that offer similar functionality to one single application moving forward.

Package readiness and workflow tracking. Track the status of your applications through the app packaging factory — may it be discovery, packaging, or User Acceptance Testing (UAT) to deployed to always know where potential efficiency gains or bottlenecks might be hiding. This also enables you to run analysis across your entire in-scope devices to find the ones that can be migrated first based on their application readiness status.
Live scheduling & Velocity Reporting. Based on the project forecast or live schedule,

Dashworks can automatically figure out the

first required date for any of your applications and display it in live prioritization dashboards. The system also supports

velocity reporting: Which applications give us the most green devices? What's the order of priority for all of the applications for the mathematically fastest migration project?

Zero-Touch Migration Orchestration. Once you have the final application list, Dashworks can then orchestrate the user or the computer into the appropriate Microsoft Active Directory group or SCCM collection. This gives your users post-migration access to that application through zero-touch automation.
Concerned with web applications? Dashworks also integrates with Browsium Proton or can accept other types of application list via CSV import so that you can have a complete view of both fat client and web based applications for your project.
Benefits:
Actionable insight for your application stakeholders. Whether you need a single dashboard for global application readiness,

multiple dashboards for group-based readiness, or you simply want to know which applications are used in which departments, Dashworks has got you covered — providing your team with a single version of application truth.

Huge efficiency gains by applying automation on application readiness data. With Dashworks, you are able to create workflows that apply readiness to assets individually or

drive application prioritization through the velocity reports to reduce the amount of work required to get deployment numbers on the board.

Application verification by your end users. By leveraging Dashworks Self-Service capabilities, your end users can add a valuable layer of context around application verification because only they know for sure if they really need this application to do their job, even though they might only open it twice a year!
Reduction in application count and licensing. Because now you can track where you came from and where you went to, you can reduce your application count significantly and true-up your licensing count. On average, our customers can achieve a reduction of 35%!
Ready To Talk? Let's Schedule Your Personalized Demo Today!