Application Compatibility Is A Major Windows 10 Migration Concern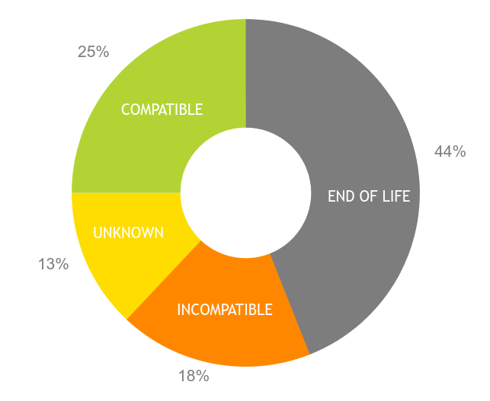 Four out of five enterprises are expected to upgrade to Windows 10 by the end of 2018 — leaving not much wiggle room for evaluating, assessing, and testing before moving on to executing this migration project!
However, despite Microsoft's efforts to minimize these issues, application compatibility is a major obstacle enterprises face on their road to a smooth Windows 10 migration In fact, the average enterprise Windows 10 migration touches more than 1500 applications:
Only 25% of the enterprise applications are compatible out-of-the-box,
18% are incompatible,
44% are end-of-life,
leaving 13% as unknown (no information available).
— in other words, enterprises will have to tackle hundreds of applications before being able to migrate.
11

Steps To Application Compatibility
To significantly accelerate your Windows 10 migration project, you can leverage Juriba's enterprise IT transformation tool, Dashworks, in combination with some partner tools to breeze through the following ten steps:
1) Gather all relevant project discovery data
Gather all relevant project discovery data leveraging Dashworks and its connectors to discovery tools. The process to consume your inventory data is as simple as providing a read-only account to the data source. Since the average enterprise has as many as 12 discovery tools already in-house, this gives you a powerful way to consolidate all data into one actionable view.
2) Map Relevant Data to Product Catalog
Now that you have all the data loaded, the tool will map it back to a best-in-class software catalog including millions of records - enabling you to know which applications are in-house developed applications vs. commercial software or niche apps that aren't in the catalog yet. The unknown applications can be simply submitted to the software catalog manufacturer for a 'gap fill' process which will further improve the mapped application hit rate.
3) Create a Normalized Application List
Your known applications can now be normalized with a normalization tool — creating an initial 'Master List' (a significant milestone in your project). Multiple versions of the same application are automatically normalized to a single, major release, significantly reducing the number of applications to review.
4) Categorize Relevant, Irrelevant and Unknown Applications
The tool will now quickly go through your mapped applications and mark which of these are relevant for your Windows 10 project, and which are not. For example, driver packs, language packs, and hotfixes are automatically marked as irrelevant, reducing the size of the applications list by as much as 80%.
5) Understand Application Compatibility and Lifecycle Stage
The mapped applications are now cross-referenced against the third-party's software catalog's Windows 10 content pack to ascertain whether or not they are compatible, or if there is no known compatibility information.
Data points are created to show compatible, incompatible (but upgrade path exists), incompatible or unknown. Further, applications are categorized for whether they are currently in support or whether they are end of life. Incredibly, these first five steps are typically achieved within a single day.
6) Feed the New Lists into Dashworks
Once you have created your master list, you can feed the application data into Dashworks ready for action.
This way, you are only dealing with the relevant applications and data points in the project, and have already removed most of the noise associated with trawling application lists manually. Dashworks will automatically link the applications to the computers and the computers to the users to build a single view of the project in preparation for the next steps.
7) Rationalize and Validate
Now is a great time to make use of Dashworks' Self-Service capabilities and usage data analytics to further rationalize and validate the applications to consolidate your list down to only what is necessary for your project. Remove the last of the unwanted or unnecessary applications to finalize your master list.
8) Current to Target State Mapping
This is a critical part of your project, Now that you have a truly rationalized list of all relevant and validated applications, you can categorize each one for the project by determining whether to keep it, retire it or forward-path it — essentially mapping your current state to your target state for deployment. Here you might want to map multiple major versions of an application to a single, standard Windows 10 version.
9) Application
Packaging L

ifecycle

Finally, you have submitted your list of required applications and they are becoming ready for the migration process! Dashworks will track which status your application is in. Traffic lights show readiness, which filters down to every asset to give a real-time indicator of machines that are ready to go, and machines still waiting on their applications.
10) Deployment
Only when all the applications are ready to go, your project is ready to move into the implementation phase. Now, it's time, the rubber hits the road. Dashworks can push the target state list of applications along with the new machine information to deployment tools like SCCM and MDT for a zero-touch migration process.
11) Dashboards & Reports
To ensure your project runs as efficient as possible, you can use Dashworks pre-canned reporting, 'what-if' analysis, and dashboarding to keep your efforts on track.
Concerned with web applications? We also integrate with Browsium Proton so that you can have a complete view of both fat client and web based applications for your project.