Massive organizational changes, whether they are mergers, acquisitions, or diversifications, are a tricky business. While 75% of organizations cannot implement a significant internal change successfully, experts from Wharton School of the University of Pennsylvania and Harvard University have found that adding the complexity of a second organization through M&A causes failure rates to skyrocket as high as 90%!
One of the most common reasons for this high failure rate is that the end-to-end process is not planned carefully enough. Even if your up-front due diligence and integration strategy are solid, the real work starts once the ink is dry — and that's when things usually go acutely awry, especially in the business and IT integration. However, it is precisely the integration of both IT infrastructures — e.g., the merging legacy and back-office systems, end user applications and consolidated IT platforms — that is one of the most critical factors in determining how successful your merger and acquisition strategy will be. This is true in many verticals, but particularly for financial services. These integration efforts will often also drive your M&A timetable.
And while the failure rate might not be as high for diversification or divestiture, the mother organization must ensure that financial and technological synergies are being leveraged between sister companies or departments, and that the process of spinning out all of the associated infrastructure and applications is smooth for all parties.
Dashworks Can Help You Integrate Different IT Landscapes And Gain Control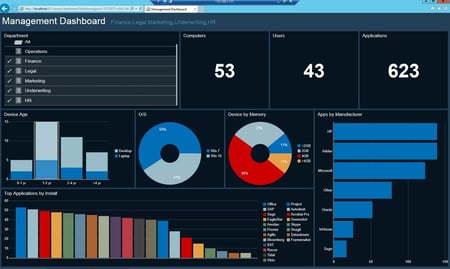 Dashworks, Juriba's IT transformation management solution, allows IT organizations to quickly discover, assess, plan, and ready assets for migrations and other IT transformation management projects. The data warehousing and project management tools also enable you to schedule migration tasks, ask your employees to self-identify their software needs as well as hardware devices, and much more.
Regarding an M&A or diversification event, Dashworks enables you to quickly gain an overview of what you are dealing with (even before the acquisition) and therefore develop an accelerated and efficient path to merging both IT organizations successfully. It allows you to quickly identify the current state IT and map it to the target state in order to build an integration plan. For example, you can use Dashworks Analysis+ to compare two disparate sets of data, normalize and consolidate all IT asset information (hardware and software) to provide everything you need to make an informed decision about your ideal target state and what needs to happen to get there.
Ultimately, Dashworks puts you in the driver's seat by being pro-actively in control, rather than being constantly behind the eight ball in a reactive mode.