Perpetual Hardware Refresh To Cut Maintenance Costs
Aging hardware is expensive. By year five, the performance of an IT asset has, on average, decreased by about 40%, while maintenance costs have increased by a staggering 148%! Consequently, users will lose productivity or even access to their devices for hours or even days if any issues occur.
Most organizations have financial policies in place to replace all devices on a set schedule, e.g., every three years for laptops and four years for desktops. Sometimes, replacements are aligned with larger projects in a big bang OS migration or a building move; other times they can happen through attrition. Assets might be leased, or purchased with a maintenance and support agreement, and some business units may decide to "sweat the asset" by continuing to utilize it outside of any warranty or maintenance period. Consequently, it is often the case that every asset is on an entirely different refresh schedule.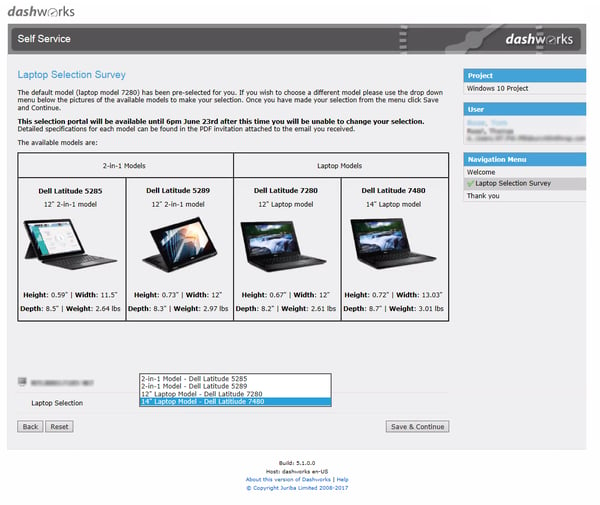 The ongoing management of that hardware refresh piece is very resource-intensive. Just think of all the procurement and approval items, logistics with vendors and build tasks you have to juggle to replace just a few machines. Replicating this thousands of times without repeatable processes and tooling in place is very inefficient, especially when these upgrades could be tied with other events such as a Windows 10 feature release.
With Dashworks, Juriba's IT Transformation Management Platform, IT managers can effectively build out a perpetual hardware refresh project. Once created, every device is loaded into that Evergreen project as soon as they are purchased or leased. Based on your hardware lifecycle management parameters (i.e,, your refresh period), Dashworks will trigger a workflow to initiate and manage the next asset replacement.
Dashworks, Juriba's IT Transformation Management Platform can help you keep your hardware costs low while keeping on top of your asset lifecycle. Onboard all existing and new users and devices into Dashworks to keep all relevant information in one single system. This way you can keep a tab on where each device is, who is using it, as well as all the relevant information (e.g., disk space, end-of-life date, end-of-warranty date). Therefore, you know exactly what and when you need to refresh, you are less likely to lose devices, and when it is time to return or replace them, you aren't scrambling for a missing percentage of your inventory — resulting in lower hardware costs.
You can even automate your procurement, logistics, and rollout tasks using smart workflows and data-driven insight, as well as deploy automated and targeted email communication and self-service to empower your users to become an active part in the project. Let Dashworks do the heavy lifting for you and eliminate weeks of man effort and significantly increase your agility and Business-as-Usual readiness.