Modern IT Management Needs Automated Self-Servicing
In an effort to avoid Shadow IT and inherent problems like application sprawl, more and more organizations are allowing end users to take more ownership of their own IT decisions. Therefore, IT needs to become more transparent and customer-centric as its mission shifts from "Keeping the Lights On" to adding business value by facilitating, managing, and controlling IT services in an easy-to-use, self-service fashion.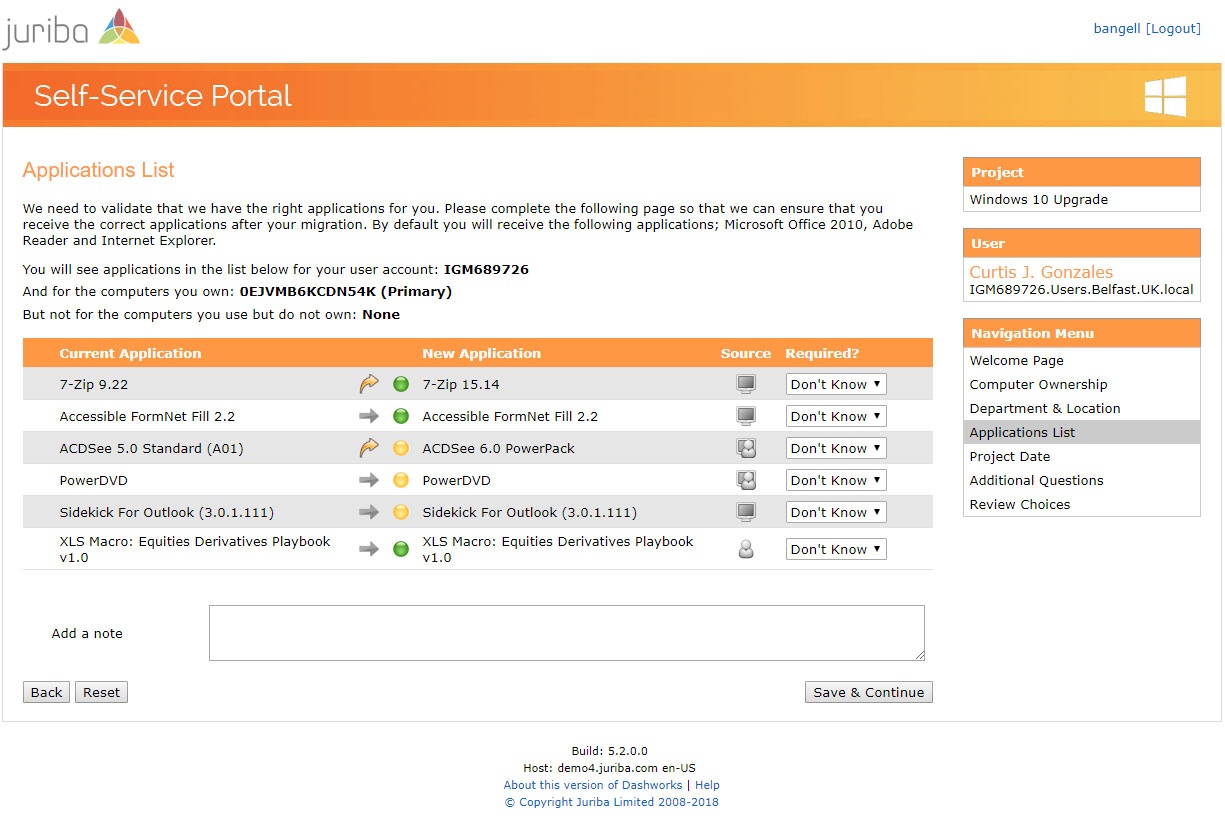 Without automation, the selection, approval, communication, and provisioning of these new IT services means having to send thousands of emails and performing instantly out-of-date manual audits — creating a terrible user experience. It's no wonder so many IT migration projects end up employing twice the number of resources than they plan on and budget for!
The Dashworks Self-Service Portal can unburden your project from this otherwise resource-intensive process. Already included within your Dashworks Project System license is a highly customizable end-user self-service IT migration portal that can be easily configured for many use cases, such as end-user validation of application usage, device ownership and personal information, choosing a new device from pre-determined options, and capacity-driven self-scheduling.
Features:
Central self-service hub for all your IT service needs. Dashworks' Self-Service Portal can be set up as a user-, computer-, or mailbox-based self-service portal depending on your IT transformation goals.

Highly customizable and can be configured to serve many different use cases such as data validation, self-scheduling, confirming user preferences, device selection and much more.

End-user data validation for location, department, computer/mailbox ownership, application requirements

Collect additional data through survey page to provide extra context for your migration project.

Self-service scheduling within capacity constrained date windows

Highly personalizable and actionable to provide the best user experience.

Real-time scheduling and capacity management.
Benefits:
Increase your agility and Business-as-Usual readiness. With Windows 10 and Office 365 needing two update cycles a year, automated, workflow-driven communication and self-service eliminate most of the heavy lifting.

Faster & easier migration scheduling. Because Dashworks offers end users the capabilities to self-select a preferred migration date in real-time and within the constraints of your capacity, scheduling becomes much easier for both your team and your customers.

Versatile use cases. The Dashworks Self-Service Portal can be used to encourage end users to pick their preferred migration date based on pre-defined parameters, such as capacity or migration window by location, validate application usage or other personal preferences, pick a device from a list of approved devices, and much more.

Eliminates the need for expensive floorwalkers interviewing users to gather information: Dashworks automatically triggers emails to selective users asking the end users to click on the link directing them to the self-service wizard. Within minutes, you can collect everything you need to know.

Significant reduction in application count. Reduce the number of applications you have to package and test pre-migration as well as maintain and license post-migration by simply asking your users a Yes/No question to validate application usage. Our clients have experienced, on average, a reduction of 25%. However, in some cases, it can be as high as 70%!

Incredible end-user experience leads to high engagement. Because users prefer to be involved in decisions concerning their migration, offering self-service options can lead to higher engagement. Our clients see response rates averaging around 75-90% which means they have to manage exceptions instead of everyone.
Ready To Talk? Let's Schedule Your Personalized Demo Today!