Dashworks Connectors & Data Sources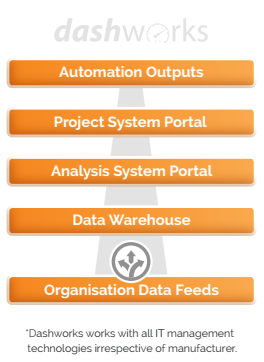 The first step of any IT Transformation project or ongoing Business-as-Usual change activity is to understand what you have in your IT environment. And since your project can only be as good as the information you feed it, it is critical that your data is accurate, up-to-date, and actionable.
Traditionally, you would either build a project-specific hand-cranked database, or import various data sets into Excel spreadsheets. Either way, your data would often be incomplete, instantly outdated, and a hot mess.
The alternative is to use Dashworks' industry-leading, robust connectors to create a refreshable, secure, and actionable link between numerous disparate data sources and the Dashworks data warehouse. The Juriba platform uses read-only data connectors to import data sources such as user directories and organizational hierarchies, computer hardware and software inventory data, application compatibility data, and mailbox inventory from existing repositories within the organization.
Features:
Robust processing. The connectors consist of optimized queries that work incrementally to harvest only the required and changed data from your data repositories. Data is transported in batches, so should anything break (like an unscheduled SCCM reboot), the connectors will just pick up where they left off and continue.

Configurable and intelligent data refresh using parallel and incremental data processing methods. Only load the data you actually need. You can configure connector rules to harvest specific data, for example, only return devices that have been active in the last 60 days. Dashworks connectors use incremental processing designed to place the minimal amount of load on your source repositories, and the minimal amount of data into the Dashworks platform. The connectors can also be configured to pull different data sets from the same tooling such as application usage or package entitlements from SCCM rather than installed application data.

Out-of-the-box certified data connectors for all of the common IT management tools such as Microsoft SCCM (multiple versions), Exchange, Active Directory, and dozens of third-party data connectors for Dashworks Analysis+ customers (see sidebar).

CSV file handler to consume additional organizational and other project-relevant data. Anything that's not already in the source systems can be appended into the data set using a CSV upload. Dashworks also has the ability to import critical data residing in other external systems such as HR and asset databases using supported CSV format files. This could include (but is not limited to) user contact details, computer warranty dates, application owners, location hierarchy, business unit hierarchy, PC ownership overlay, web application feeds, and many more. Dashworks also links to dynamically-generated project information such as application workflow readiness status or mailbox migration success flags.

Bespoke connectors. Dashworks supports the ability to create bespoke connectors by creating a custom view in your data set and transferring the customized data directly into a Dashworks table (known as a direct insert). This way you can automate the data harvesting process, make it refreshable, and avoid manual CSV uploads.

Wizard-driven management. Our connectors are easy to configure, even for non-technical power users. You only need a read-only service account, point it at the appropriate data repository, schedule when you want it to run, and Dashworks will do the rest.

Error reporting & rule-based data cleansing. Dashworks can also clean and consolidate your data on the way in. For example, a messy HR feed might create three locations called "Hawley Street", "Hawley St.", and "Hawley St" but by creating rules, you can tell Dashworks that this refers to only one location.
Benefits:
Connector Robustness. Our industry-leading connectors have been used by enterprises, financial institutions, and service integrators around the world to ready more than seven million assets for successful migration. Over the past years, we have seen thousands of different data anomalies, and built Dashworks to handle them.

Unmatched Simplicity. The management of our connectors is productized as much as possible, which means they are simplified on the surface, neatly tucking away its powerful engine under the hood. A read-only account is all you need to get started.

Resource & Time Conserving. Since our connectors are built to run incrementally, and can be scheduled as resource-efficiently as possible, they keep your project in near-time sync with your live environment without the burden of live update overhead. Since everything is automated, just schedule updates nightly, over the weekend, or other times convenient for you and let Dashworks do the rest.

Less Irrelevant Clutter & Noise. Each organization is different, and so is the project data it requires. Instead of having to sort through massive data dumps, our configurable connectors only load data that is relevant to you right from the start. This also makes further cleansing of your data a much simpler process.

Speed & Scalability. Because of their intelligent design and strategic approach, Dashworks data connectors offer an unparalleled speed and scalability to your IT Transformation project — reducing the time it takes to have all your IT data available from weeks to hours, accelerating the start-up time of any project.