Let Dashworks Do The Heavy Lifting With Automated Email Communication
Managing tens or even hundreds of thousands of devices, users, and mailboxes can be daunting. Just imagine manually creating, sending, and tracking an email for each user undergoing a simple OS or email migration on a T-30, T-20, T-10, T-3, T-1 and T+1 schedule. Now add reminder emails and reschedules, emails to project site champions, project stakeholders, and other resources. For example, in an environment of 10,000 users, you could be close to sending 100,000 emails already. Even if each email just takes a couple of minutes, you'd need an army of people simply to keep on top of communications!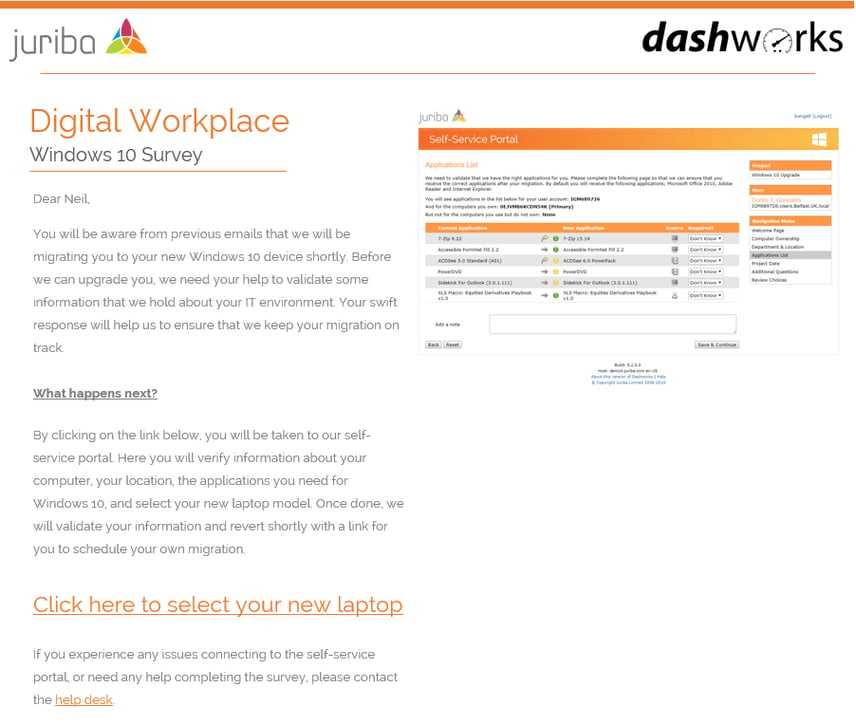 Features:
Easy Project Email Setup. Set up your HTML email templates and add your system placeholders (e.g., First Name, Scheduled Date), links to training material, screenshots, and other project graphics, as well as attachments (such as end user dropsheets). Translate your emails into different languages if desired. Then simply configure the templates to send against a date offset (e.g., scheduled date minus 30 days) and set your email batch to run at a suitable time. That's it!

Reliable Sending, Tracking & Auditing. Not only will Dashworks now reliably send thousands of emails, but it will track their delivery too, ensuring that you are communicating to the right mailboxes. You can see what has been sent, what is about to be sent, and even send an email immediately if the situation demands it.

Highly Customizable. Customize the email template to reflect your branding guidelines or corporate look & feel to increase user adoption. This is easily and quickly done once during the project setup and can be reused throughout the project again and again.

Highly Personalized & Actionable. Inject personalization tokens, migration schedules, calendar appointments, and other information relevant to your IT Transformation project.

Smart Sending. The email notifications can be turned on or off for specific users, and they can be triggered in batches based on the date offset or sent individually. They can be tailored by type, so that you can send a tailored email to a notebook user that needs to bring their device into a depot versus a desktop user having a simple wipe and load.

Full Auditing. With Dashworks' automated email communication capabilities, you can configure emails to be sent to delegates as well. They are fully audited, giving you full control of what was sent, and when.

Advanced Integration. For more advanced integration, the emails can also be configured for feedback via our API (e.g., to send out a user happiness survey) or be used to collect further user data required for the project (e.g., inform end users of laptop choices during a hardware refresh or ask them to validate app usage).
Benefits:
Eliminate weeks off your project timeline by automating your end user email communication using smart workflows and data-driven insight.

Stay in full control of your project email with Dashworks' sent mail tracking and audited delivery. Send emails now, or as a scheduled batch process from an email address of your choice.

Empower your users to become part of the project with highly tailored and actionable emails using personalization tokens, migration schedules, and other relevant information. The ability to personalize each email with migration schedules, personalization tokens, and more will not only increase transparency, but also enable them to become an active part of the migration process. Your end users will love the automated email communication capabilities of Dashworks, and your project administrators will too.

Encourage user adoption and engagement by customizing your email templates to match your branding (e.g., logo, colors).

Increase your agility and Business-as-Usual readiness. With Windows 10 and Office 365 needing two update cycles a year, automated, workflow-driven communication and self-service eliminate most of the heavy lifting.

Keep your executive management and other stakeholders in the loop automatically. Dashworks can be customized to send summary emails to executive stakeholders or workstream leaders that require high-level reports. Just define the information you need, when to send it and to whom, and the system will do the rest.
Ready To Talk? Let's Schedule Your Personalized Demo Today!