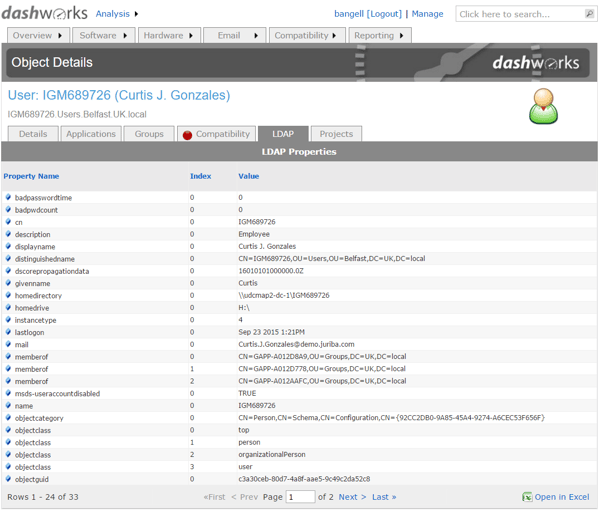 Dashworks: Active Directory Migration In A Box
If you are about to approach an enterprise Active Directory migration project, you will know that a complicated journey lies ahead.
Whether it is a multiple domain consolidation, or a move to the cloud with Active Directory Azure, there are a thousand and one tasks waiting for you. You will need to plan meticulously every aspect of project delivery, coordinate multiple resources across multiple teams, liaise with your businesses, communicate with your end-users and ensure that thousands of administrative tasks have to be completed on schedule. All of this while ensuring that your end-users retain access to all of the resources they need to perform their job roles.
It's no wonder that so many Active Directory migration projects run over time and budget. This is why you need a central command and control tool from which to coordinate your efforts. With Dashworks, you get everything an Active Directory migration project manager could need in one box.
Gather Your Active Directory Users, Computers, Hierarchy & Object Properties
Dashworks seamlessly connects to your existing Active Directory domains for your critical project data. Using our certified connectors, your information is collated in minutes and aggregated into the central data warehouse. Organizational data is then layered on to add locations and departments to users. Finally, custom fields are applied so that a full set of project baseline data is available. Where connectors are used, this data will refresh on the schedule you define (usually nightly).
Validate, Rationalize & Model Your Data Set
Once we have your data, the next step is to check the quality and remove the things you don't care about. This means identifying users and other objects that are not applicable for the project and ensuring that your locations contain the right number of users. In a multiple domain consolidation, working out which Active Directory object is the primary and understanding what will need to be merged. From here, we can hook into tools like Dell Migration Manager, Binary Tree and Microsoft's own tools to understand what should be in and out of scope, and where the biggest migration hurdles may surface.
Create Your Project
Now you tell Dashworks how you want to manage your Active Directory migration project. Create your migration paths, the tasks you want to track, your groups and deployment teams, the emails you want to send, and the configuration of the self-service portal. This project configuration is your blueprint for managing your migration.
Onboard Your In-Scope Users, Mailboxes & Applications
This step moves the project into action. Your users and other in-scope objects inherit the default readiness status, and groups can be analyzed for permissions, group memberships, and other key LDAP properties. Schedulers can begin their work, and reports extracted to initiate key activities such as availability of new infrastructure and synchronization status of in-scope objects. It is here that your Active Directory project workload begins to take shape.
Readiness & Scheduling
Your project resources are now moving things forward to get the Active Directory users and other objects to a green status. Emails are triggered to your end-users, and further data is validated and rationalized through the self-service portal including permissions and folder requirements. Dashboards display real-time progress and what is holding up the most migrations. At this point, your project engine is pumping, and you are in complete control.
Migration
As your readiness items complete, and your Active Directory accounts turn green for migration, it is time to lock in the schedule. Your final emails are sent, and the logistics activities are set in motion. Dashworks triggers the migration activity through tools like Microsoft's own PowerShell scripts, Dell Migration Manager and Binary Tree, and reports back on deployment success.
Post-Migration & Reporting
Of course, your project does not finish with the migration activity. There are post-migration clean-up tasks that need tracking before you can truly claim success. User acceptance and deletion of the old Active Directory accounts and permissions are all activities that may need tracking. Generating your project status report is done at the click of a button, and you can relax in the knowledge of an Active Directory migration well done.